Posted in
Playlist
,
Podcast
on Juni 17th, 2014 by Martin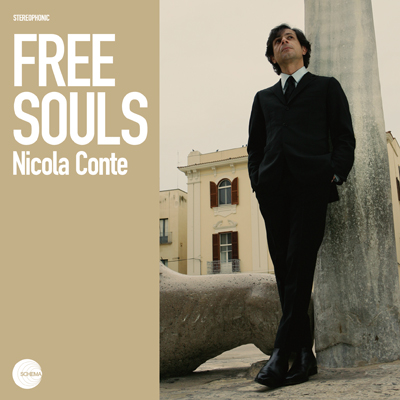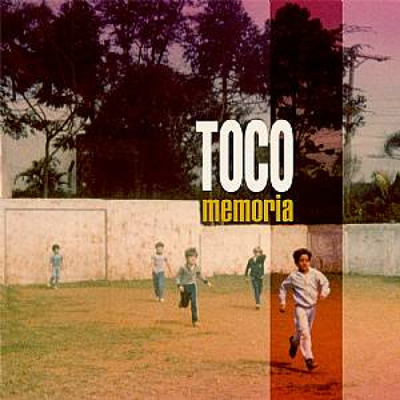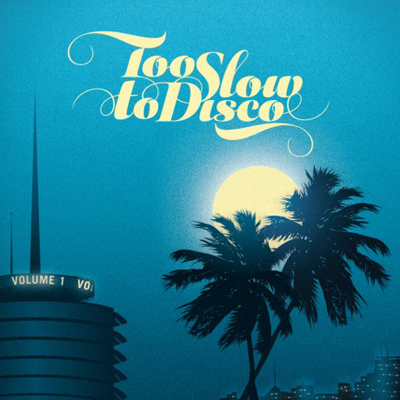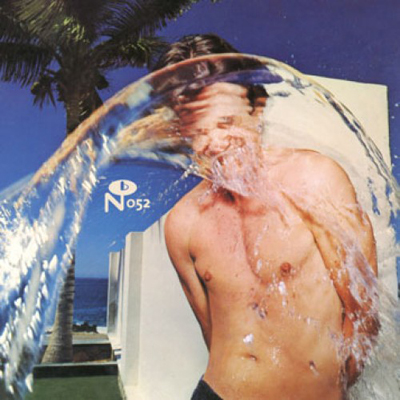 Nicola Conte kehrt mit seinem neuen Album "Free Souls" zu seinem Stamm-Label Schema zurück. Die Aufnahmen entstanden über einen längeren Zeitraum zwischen 2006 und 2010, abgeschlossen wurden sie dann in 2013. Die stark vom Jazz-Sound der 60er Jahre inspirierten Songs sind sehr "soulful" geworden. Dies ist letzendlich auch ein Verdienst der zahlreichen Sängerinnen und Sänger die auf diesem exzellenten Album zu hören sind und die Songs mit ihren wunderbaren Stimmen veredeln. Dabei wird Nicola Contes hervorragende Combo noch um einige Musiker aus dem Umfeld des legendären finnischen Labels "Ricky Tick" verstärkt, die zwischenzeitlich ebenfalls bei Nicola Contes Stamm-Label Schema veröffentlichen. Der Saxonfonist Timo Lassy dürfte darunter einer der bekanntensten sein. Mit "Free Souls" hat Nicola Conte ein bemerkenswert schönes Souljazz Album gemacht, die Platte der Woche bei Soul Unlimited!
Das Label Schema hat aktuell noch mehr beigeisternde Platten am Start: Bossa-Sounds vom Feinsten gibt es auf "Memoria" vom brasilianischen Sänger und Musiker Toco. Beim neuen Album hat Toco wieder mit S-Tone Inc. zusammen gearbeitet, was sich auch schon bei den beiden Vorgänger-Alben bestens bewährt hat. Es ist ein wunderbares Album mit teils nachdenklichen und auch fröhlichen Songs, das beim aktuellen sommerlichen Wetter auf dem CD-Player oder Plattenspieler gerne in Heavy Rotation läuft. Passend dazu gibt es in dieser Sendung auch noch einen kleinen Mix mit Brasil-Klassikern aus den 60er und 70er Jahren, die aktuell einer 45er-Single Reissue-Serie bei Mr. Bongo erschienen sind.
Die Spandettes sind ein Sängerinnen Trio aus Kanada und haben mit "The Spandex Effect" ein locker groovendes Debüt-Album veröffentlicht. Die Musik ist ein stimmiger Cocktail aus Soul, Jazz und Funk, stets groovend und sehr soulful. Neben gelungenen Coverversionen von Klassikern wie "Hunk Of Heaven" gibt es auch genügend gute Songs aus eigener Feder. Sehr Schön!
Die Compilation "Too Slow To Disco" widmet sich dem sogenannten "Blue-Eyed Soul", vornehmlich aus den späten 70er und frühen 80er Jahren: Weiße (Rock-) Bands die perfekt produzierte Soul-Songs spielen, die manchmal auch ein klein wenig zu glatt klingen. Einige sehr bekannte Namen wie Fleetwood Mac oder Chicago sind dabei, aber auch einige unbekannte Künstler gibt es zu entdecken. Einer von denen, Ned Doheny, hat schon Kult-Status und die Numero-Group hat mit "Separate Oceans" aktuell gleich eine Compilation mit Songs von ihm veröffentlicht.
Viel Spaß beim Anhören!
SOUL UNLIMITED Radioshow 270 by Soulunlimited on Mixcloud
Playlist | SOUL UNLIMITED Radioshow 270 | 08.06.2014 (Wdh. 13.06.2014)
Interpret / Titel / Label (Format)
Zara McFarlane / Woman In The Olive Groves / Brownswood (LP-track: If You Knew Her)
Melanie de Biasio / With All My Love / PIAS (LP-track: No Deal)
Gregory Porter / Water Under Bridges / Blue Note (LP-track: Liquid Spirit)
Fiver Corners Quintet / This Could Be The Start Of Something / Ricky-Tick Records (LP-track: Chasin' The Jazz Gone By)
Nicola Conte / Goddess Of The Sea / Schema (LP-track: Free Souls)
Nicola Conte / If I Should Lose You / Schema (LP-track: Free Souls)
Nicola Conte / Ode To Billie Joe / Schema (LP-track: Free Souls)
Jukka Eskola / Wien / Schema (LP-track: Orquesta Bossa)
Thievery Corporation / Quem Me Leva / ESL Music (LP-track: Saudade)
Gaetano Partipilo / Se Voce Pensa / Schema (LP-track: Besides)
Claudia / Deixa Eu Dizer / Mr. Bongo (7″)
Sonia Santos / Speed / Mr. Bongo (7″)
Noriel Vilela / 16 Toneladas / Mr. Bongo (7″)
Abilio Mandel / Luiza Manequim / Mr. Bongo (7″)
Boogaloo Combo / Hot Pants Roads / Mr. Bongo (7″)
Os Originais Do Samba / Tenha Fe, Pois Amanha Um Lindo Dia Vai Nascer / Mr. Bongo (7″)
Toco / Mane / Schema (CD-track: Memoria)
Toco / Breque Bom / Schema (CD-track: Memoria)
Toco / Meu Rio / Schema (CD-track: Memoria)
Sonzeira / Southern Freeez / Talking Loud (7″)
Da Lata / Places We Go / Agogo (LP-track: Fabiola)
The Spandettes / Automatic / Do Right (LP-track: Spandex Effect)
The Spandettes / Dig Deeper / Do Right (LP-track: Spandex Effect)
The Spandettes / Donnie The Disco Commie / Do Right (LP-track: Spandex Effect)
Fleetwood Mac / Sugar Daddy / How Do You Are (LP-track: V/A – Too Slow To Disco)
Micky Denne And Ken Gold / Let's Put Our Love Back Together / How Do You Are (LP-track: V/A – Too Slow To Disco)
Ned Doheny / Get It Up For Love / Numero (LP-track: Seperate Oceans)
Ned Doheny / Each Time You Pray / Numero (LP-track: Seperate Oceans)
Tags:
Brasil
,
Mr. Bongo
,
Ned Doheny
,
Nicola Conte
,
Schema Records
,
The Spandettes
,
Toco
,
Too Slow To Disco