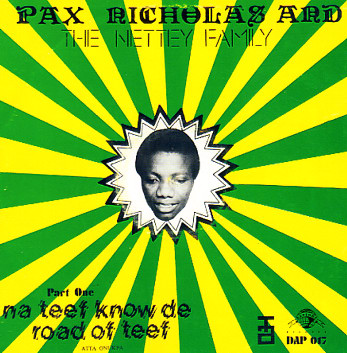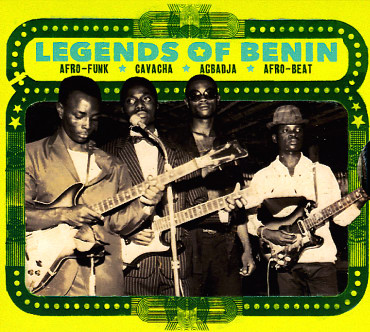 Afrobeat dominiert die erste Stunde. Es ist mal wieder Zeit für einen Update der interessanten Veröffentlichungen in der letzen Zeit aus diesem musikalischen Bereich. Daptone Records haben ein Album von Pax Nicholas aus dem Jahre 1973 wiederveröffentlicht. Ein erstklassiges Album, das nun hoffentlich eine breitere Öffentlichkeit bekommt als zum Zeitpunkt seiner ersten Veröffentlichung.
Hervorragende Arbeit leistet auch der Frankfurter DJ und Plattensammler Samy Ben Redjeb mit seinem Label Analog Africa. Vor ein paar Monaten hat er die Compilation "Legends Of Benin" zusammengestellt, die in dieser Sendung ausführlich vorgestellt wird.
A collection of super rare and highly danceable masterpieces recorded between 1969 -1981 by four legendary composers from Benin
Die Ankündigung hält was sie verspricht. Meine Empfehlung!
Nach einigen Vorstellungen von neuen und Reissue-7″s aus dem Bereich Soul und Funk, geht es dann in der zweiten Stunde über in einen Mix, der den Bogen von Funk bis House spannt.
Viel Spaß beim Anhören!
Playlist | SOUL UNLIMITED Radioshow 081 | 11.10.2009 (Wdh. 16.10.2009)
Interpret / Titel / Label (Format)
The Dynamics / Downtown Barkings (Afrobeat Edit) / Big Single (12″)
Pax Nicholas And The Nettey Family / Na Teef Know De Road Of Teef / Daptone Records (LP-track: a Teef Know De Road Of Teef)
Fred Fisher Atalobhor And His Ogiza Dance Band / No Way / Vampi Soul (LP-track: African Carnival)
El Rego et Ses Commandos / Feeling You Got / Analog Afrika (LP-track: V/A – Legends Of Benin)
Antoine Dougbe / Kovito Gbe De Towe / Analog Afrika (LP-track: V/A – Legends Of Benin)
Antoine Dougbe et L'Orchestre Poly-Rythmo / Ya Mi Ton Gbo / Analog Afrika (LP-track: V/A – Legends Of Benin)
Buari / Hard Times / Makossa (LP-track: Disco Soccer)
Barbara St. Clair / Jeykyll And Hyde / Soul 7 (7″)
Darrel Banks / Don't Know What To Do / Ever-Soul (7″)
Keisa Brown / Dance Man / Jazzman (7″)
The New Mastersounds / San Frantico / One-Note (7″)
Breakestra / Joyful Noise (12″ Edit) / Strut (12″)
Kazahaya / Remember Hip Hop (Inst.) / Breakin Bread (12″)
The Baker Brothers / Space Funk / Freestyle (12″)
Lack Of Afro / Closer To Me / Freestyle (12″)
Marc Hype & Jim Dunloop / Point Blank / Melting Pot Music (12″)
Rome Jefferies / Good Love / Rusty's Dusty Disco (12″)
Glass Pyramid / Who's Girl Are You? / Peoples Potential Unlimited (LP-track: Glass Pyramid)
George Alexander feat. Big John Whitfield / Promised Land / Record Shack (7″)
Doobie Bros. / What A Fool Believes (Mad Mats Rework) / G.A.M.M. (12″)
Ashley Thomas / Let It Bloom (Domu House Mix) / WahWah 45s (12″)
Jazztronik / Real Clothes (Guynamukat We Love Ryota! Boogie Remix) / Mukatsuku Records (12″)
Peter Kruder / After The Dawn / Compost Black Label (12″)