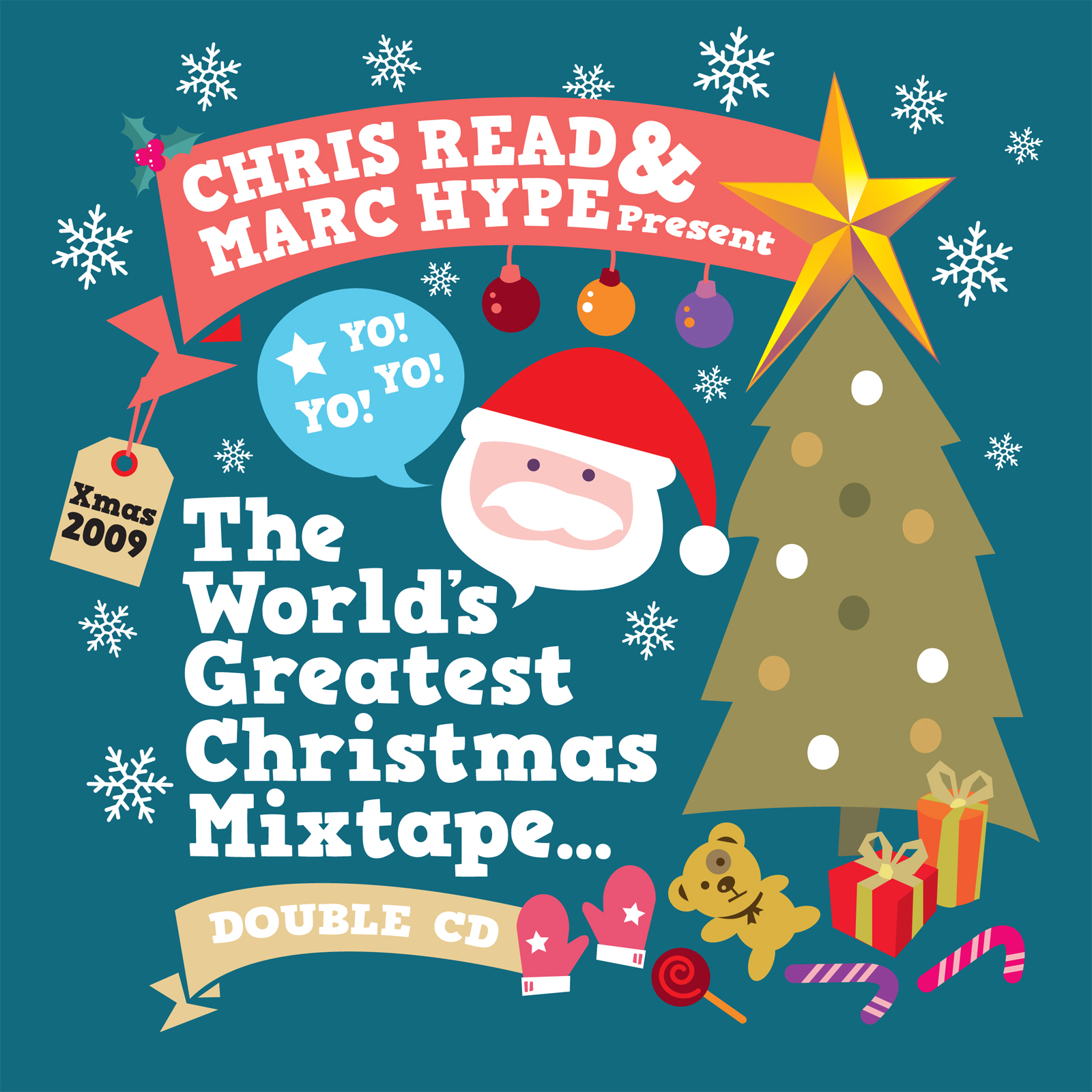 Für die Weihnachts-Ausgabe von Soul Unlimited habe ich zwei sehr gute Mix-Sets zum Thema ausgewählt: Chris Read und Marc Hype haben das "The World's Greatest Christmas Mixtape" zusammengestellt. In zwei Teilen gibt es jeweils einen Themen-Mix von Chris Read und von Marc Hype.
Auf Chris Read's Web-Seite gibt es eine ganze Reihe hervorragender Mixtapes zum Download. Ein Besuch der Seite musicofsubstance.com sei euch empfohlen.
Der Berliner DJ Marc Hype, der 1998 und 1999 die deutsche ITF DJ Championship gewann, hat kürzlich zusammen mit Jim Dunloop sein Debüt-Album veröffentlicht. Ich habe es euch in der Sendung vom 22.11.2009 vorgestellt.
Viel Spaß beim Anhören!
Playlist | SOUL UNLIMITED Radioshow 092 | 27.12.2009 (Wdh. 01.01.2010)
Interpret / Titel
Binky Griptide – Holyday Breakdown
Sharon Jones & The Dap-Kings – There Ain't No Chimneys In The Projects
Chris Read – Merry Chrismixx!
1 – Chris Read – Merry Chrismixx Intro (Featuring Nat King Cole, Mike Epps, Dolemite, Ghostface, Disco 4, Derek B & Sweet Tee)
2 – Lionel Hampton & Sonny Parker – Boogie Woogie Santa Claus
3 – Jackson 5 – Santa Claus Is Coming To Town
4 – Petula Clark – Where Did My Snowman Go?
5 – Barry Gordon – Nuttin' For Christmas (DJ Unite Refix)
6 – Elvis Presley – Here Comes Santa Claus
7 – Eddie Murphy – Doo Doo Christmas Gifts
8 – Mike Epps – Bad Santa Skit
9 – De La Soul – Millie Pulled A Pistol On Santa
10 – Paul McCartney – Wonderful Christmastime
11 – De La Soul – Simply
12 – Danimal & Lakim – Big Pooh Vs. Santa Claus
13 – King Sun D Moet – Christmas In The City
14 – Margaret Whiting – Misteltoe Kiss Polka
15 – Scoopy – Scoopy Rap
16 – Diana Ross & The Supremes – Born Of Mary
17 – Sweet Tee – Let The Jingle Bells Rock
18 – Ryuichi Sakamoto – Merry Christmas Mr Lawrence
19 – Jackson 5 – Up On The House Top
20 – Run DMC – Christmas In Hollis
21 – Clarence Carter – Back Door Santa
22 – Kurtis Blow – Christmas Rappin'
23 – Super J – Santa's Rap Party
24 – James Brown – Signs Of Christmas
25 – James Brown – Soulful Christmas
26 – Bootsy Collins – Winterfunkyland (Excerpt)
27 – Bobby Helems – Jingle Bell Rock
28 – INT – That Magic Of Christmas
29 – Stevie Wonder – What Christmas Means To Me
end of mix
Marc Hype – Jingle Bells '09
1 – Blondie ft. Fab 5 Freddie – Yuletide Throwdown (Excerpt)
2 – Mirror Image – Deck The Halls
3 – Dan The Automator – Jingle Bells Remixed
4 – Bing Crosby – Happy Holiday (Beef Wellington Remix)
5 – Cheech & Chong – Santa Claus And His Old Lady
6 – The Soul Saints Orchestra – Santa's Got A Bag Of Soul
7 – Harvey Averne Band – Let's Get It Together This Christmas
8 – Electric Jungle – Funky Funky Christmas
9 – Billy Jackson – Have A Happy Christmas
10 – Cold Crew – Rappin' Christmas (Platurn Edit)
11 – Thurl Ravenscroft – You're a Mean One, Mr Grinch
12 – Elf Elf & Dok-Im – My Christmas Bells
13 – Derek B – Chillin' With Santa
14 – Jewel T – Bring On The Sleigh Bells
15 – Fiona Apple – Frosty the Snowman
16 – Martin Mull with The Sondra Baskin Glee Club – Santafly
17 – Funk Machine – Soul Santa
18 – J.D. McDonald – Boogaloo Santa Claus
19 – Pee Pee Dynamite – Groovy Christmas & New Year
20 – Al Hirt – Nutty Jingle Bells
21 – Mirror Image – O Tannenbaum
22 – Billy May Orchestra – Rudolph The Red Nosed Reindeer
23 – James Brown – Merry Christmas I Love You
24 – Martin Mull – Santa Doesn't Cop Out On Dope
25 – Eartha Kitt – Santa Baby
26 – Tom Waits – Silent Night / A Christmas Card From A Hooker In Minneapolis
end of mix
Shawn Lee's ping Pong Orchestra – Jingle Bells
Shawn Lee's ping Pong Orchestra – A Wonderful World
Links:
www.musicofsubstance.com
www.myspace.com/chrisreadsubstance
www.djhype.de
www.myspace.com/marchype