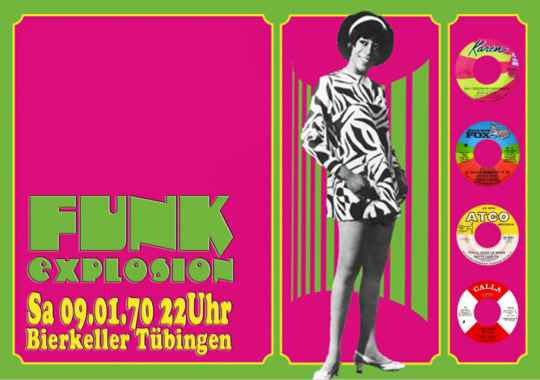 Die erste Funk Explosion im neuen Jahr! Auch 2010 bleibt es dabei:
Frisch abgestaubtes Vinyl, mit Funk, Soul und anderen Rare Grooves aus den 60er und 70er Jahren. Keine populären Hits, sondern Raritäten, übersehene und vergessene Schätze, deren Qualität besticht. Aktuelle Funk und Soul – Platten, die sich am Stil der 60er und 70er Jahre orientieren, runden dies ab. Dies sind die wesentlichen musikalischen Zutaten, die bei der Funk Explosion immer wieder für beste Stimmung sorgen.
Zur Einstimmung könnt ihr hier einen Mix von mir anhören, den ich 2006 zum 4-jährigen funk Explosion Jubiläum aufgenommen habe.
Funk Explosion Mix-03on Mixcloud
Playlist:
1. The Jackson Sisters: I Believe In Miracles
2. Willie Hutch: Brothers Gonna Work It Out
3. Tyrone Davis: Is It Something You've Got
4. Cliff Nobles: My Love Is Getting Stronger
5. Charles Sheffield: It's Your Voodoo Working
6. Nicole Willis & The Soul Investigators: This Ain't Love (Don't Know What Is)
7. Sharon Jones & The Dap Kings: I Just Dropped In To See What Condition My Condition Is In
8. The Bamboos feat. Alice Russel: Step It Up
9. Lefties Soul Connection: Organ Donor
10. 1984: There's A Wrinkle In Our Time
11. Troubled Soul: Funky Me (Part 1)
12. The Mighty Dogcatchers: It's Gonna Be A Mess (Part 1)
13. M&S Band: Egg Roll
14. The New Mastersounds: Stay On The Groove
15. Big Daddy Moochin': Ratpack
16. The Poets Of Rhythm: Practise What You're Preach
17. Joseph Henry: Who's The King? (You Know That's Me)
18. Bobby Byrd: I Know You Got Soul
19. Eddy Bo: Can You Handle it
20. Vicki Anderson: Answer To Mother Popcorn
21. Sharon Jones & The Dap Kings: What If We All Stopped Paying Taxes?