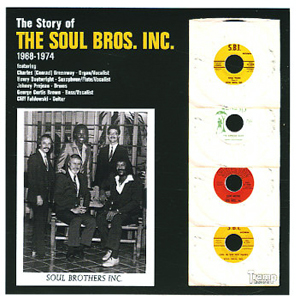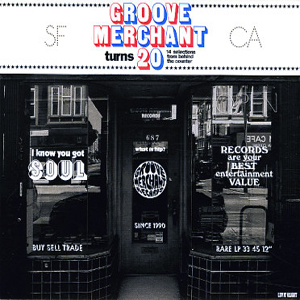 Tobias Kirmayer hat auf seinem Label Tramp Records wieder ein höchst interessantes Release am Start: The Story of The Soul Brothers Inc.
In dieser Soul Unlimited Ausgabe wird es ausführlich vorgestellt. Hervorragende Platte!
Der Plattenladen "Groove Merchant" feiert seinen 20. Geburtstag. Dieser Laden, der in der Haight Street in San Francisco residiert, war auch Geburtsort der Labels "Ubiquity" und "Luv'N'Haight". Die Geburtstags-Compilation kommt nun auch auf letzterem Label heraus und ist definitiv hörenswert.
Viel Spaß beim Anhören!
Playlist | SOUL UNLIMITED Radioshow 128 | 14.11.2010 (Wdh. 19.11.2010)
Interpret / Titel / Label (Format)
April Fulladosa / Sunlit Horizon / Luv'N'Haight (CD-track: V/A – Groove Merchant 20)
Ron Forella / Crystals / Luv'N'Haight (CD-track: V/A – Groove Merchant 20)
Soul Liberation / Who Is Your Friend / Luv'N'Haight (CD-track: V/A – Groove Merchant 20)
Billy Martin / Funky Feelin' / Klimt (LP-track: Strawberry Soul)
Billy Butler / B&B Calypso / Prestige (LP-track: Guitar Soul!)
The Joe Thomas Group / You Can Bet Your Sweet Bippy / Perfect Toy (CD-track: V/A – Shake-A-Leg)
The Soul Brothers Inc. / Slow Motion / Tramp (LP-track: The Story Of …)
The Soul Brothers Inc. / African Slide / Tramp (LP-track: The Story Of …)
The Soul Brothers Inc. / Git It / Tramp (LP-track: The Story Of …)
The Soul Brothers Inc. / That Loving Feeling / Tramp (LP-track: The Story Of …)
Lou Cortney / I Don't Need Nobody Else / Soul Brother (7″)
John Legend & The Roots / Wake Everybody / Columbia (7″)
Myron & E with The Soul Investigators / The Pot Club (Part 1) / Nite Club (7″)
Billy Byrd / Lost In The Crowd / Soul 7 (7″)
The DT6 / Donkey Chop / Starla (7″)
Funkshone / Soul Survivor / Skyline (7″)
Diplomats Of Solid Sound / B-o-o-g-a-l-o-o / Record Kicks (7″)
Dojo Cuts / Grand Carnival / Record Kicks (7″)
Baker Brothers / Once I Had A Friend / Record Kicks (7″)
Aloe Blacc / Miss Fortune / Stones Throw (LP-track: Good Things)
Electric Wire Hustle / They Don't Want / Wonderful Noise (7″)
Willie West & The High Society Brothers / The Devil Gives Me Everything Except What I Need / Timmion (7″)
Willie West & The High Society Brothers / Lesson Of Love / Timmion (7″)
The Excitements / You'd Better Stop / Penniman (7″)
Salt & Pepper / A Man Of My World / Kent (7″)
The Pepper Pots / Real Tru Love / Black Pepper (LP-track: Now!)
The Pepper Pots / You're Still In My Mind / Black Pepper (LP-track: Now!)
Jerline And Friends / Joy Trip (Part 1) / Street Soul (7″)
DJ Day / Kossa / Anthem Records (7″)
Uptown Funk Empire / Boogie / Soulab (CD-track: V/A – Soul's Back Again)