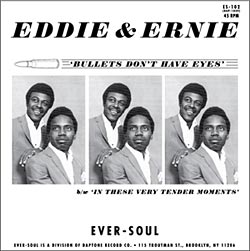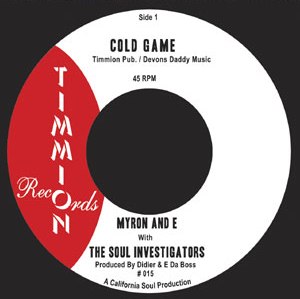 Die erste Stunde startet entspannt mit schönem Vocal Jazz vom Andrea Pozza Trio. Die auf Deja Vu erschienene LP "Drop This Thing" ist wirklich empfehlenswert. Nach einigen weiteren schönen Souljazz 7″-Releases geht es dann weiter mit neuen Soul 7″-Singles: Highlights sind Eddie & Ernie mit "Bullets Don't Have Eyes" (die aktuelle Reissue auf Ever-Soul) und Myron and E with The Soul Investigators: "Cold Game" ist eine aktuelle Produktion mit authentischem 60er Soul-Feeling. Großartig.
Auch die zweite Stunde hat einiges zu bieten: neue Funk45's, Boogie-12″s und Latin-Funk, insbesondere eine aktuelle Produktion von Greenwood Rhythm Coalition mit "Salsa Verde".
Viel Spaß beim anhören.
Playlist | SOUL UNLIMITED Radioshow 051 | 01.02.2009 (Wdh. 06.02.2009)
Interpret / Titel / Label (Format)
Andrea Pozza Trio / Drop This Thing / Deja Vu (LP-track: Drop This Thing)
Mario Biondi / This Is What You Are / Unique (7″)
Train Up / What Is Wrong With Grooving / Deja Vu (7″)
Nostalgia 77 Sessions feat. Keith & Julie Tippett / Film Blues / Tru Thoughts (7″)
Herbie Hancock / Bring Down The Birds (B-Boy Edit) / MGM (7″)
The Perceptions / Right The Wrong / Freestyle (7″)
Blinky Griptide / One Time, You're Mine / Daptone Records (7″)
Mayer Hawthorne & The County / Just Ain't Gonna Work Out / Stone Throw (7″)
Stevie Wonder / For once In My Life / Motown (7″)
Eddie & Ernie / Bullets Don't Have Eyes / Ever-Soul (7″)
The Royal VII / It's An Explosion (Pt.1) / Soul45 (7″)
The Chantels / Indian Giver / Soul Mafia (7″)
Myron and E with The Soul Investigators / Cold Game / Timmion (7″)
The Bamboos feat. Kylie Auldist / Tears Cried / Tru Thoughts (7″)
Gizelle Smith & The Mighty Mocambos / Snake Charmer / Mocambo (7″)
Tiger Tales / Feels Good, But It's Not / Tiger Tales (7″)
Bo Diddley / Hey, Jerome / Chess (7″)
Kokolo / Soul Power / Record Kicks (7″)
Four Wheel Drive / Fussin And Cussin / Tramp (7″)
Carl Hector & The Malcouns / J.B. Rip / Now Again (7″)
Lenny Williams / I Could't Find Nobody / Soul45 (7″)
The Stony Island Band / Stony Island Band / Jazzman (12″)
Tommy Stewart / Bump And Hustle Music / Jazzman (12″)
Pure Essence / Wake Up Parts 1&2 / Soul Cal (12″)
Curtis Mayfield / Give Me Your Love (Victor Rosado Mix) / East End (12″)
Johnny Hammond / Los Conquistadores Chocolates (Victor Rosado Mix) / East End (12″)
Greenwood Rhythm Coalition / Salsa Verde / Names You Can Trust (7″)
Sir Jarvis / Fania Brothers Workout / Badass (7″)
Phuture Motion presents El Ladron / Carne Negra / Freestyle (12″)