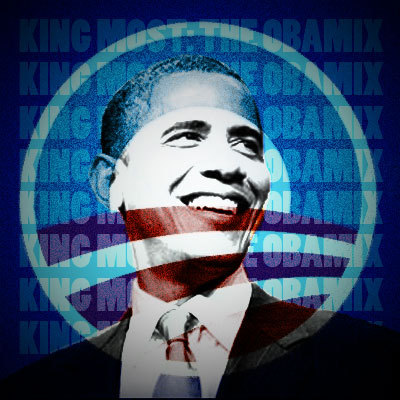 Barak Obama wurde mit überragender Mehrheit zum neuen US-Präsidenten gewählt.
Viele DJ's und Musiker aus der Soul, Funk und vor allem auch HipHop – Szene haben Barak Obama im Wahlkampf unterstützt. Zahlreiche Support-Mix-Sets kursieren im Netz, einen davon, den ich kürzlich entdeckt habe, finde ich besonders gelungen.
Der OBAMIX von DJ King Most.
King Most schreibt in seinem Myspace-Blog folgendes zu seinem Mix:
The intent of this mix was to try and capture what WE'VE all been feeling these past months: hope, struggle, and the importance of facing a challenge. It also serves as a reminder, and perhaps an introduction to what OUR candidate is all about. With that being said enjoy, register, & get involved

History, Change, & Victory In November
-King Most

and big shouts to my dude Prince Aries of D2S for the graphics.
Tracklist:
Intro/Smoked Sugar: I'm A Winner
Roy Davis Jr.: People Get Ready
Jackson 5: We're Almost There (DJ Spinna Remix)
Erykah Badu: Solider (Sasaac Remix)
Masta Ace: Beautifull
Black Spade: We Need A Revolution
Skull Snaps: It's A New Day
Marvin Gaye & The Mizzel Brothers: We Are We Going?
James Brown: Mind Power
Antibals: Si Se Puede
Grandmaster Flash: The Message (Next Message Blend Version)
Dj Day: A Place To Go
Double Exposure: Everyman For Himself
Donald Byrd: Change Makes Ya Wanna Hustle
Stevie Wonder: Blackman (Kay Sputnik Re-Edit)
L.T.D.: Love To The World
Cymande: Bra
Pitbull: American War
The Dynamics: Move On Up
Diesen exzellenten Mix könnt ihr hier anhören: